Ladies Auxiliary
The Ladies' Auxiliary is a non-profit organization operated separate from The Royal Canadian Legion… but together they thrive.
The Ladies' Auxiliary originated during the First World War when women were asked to help wounded Veterans returning home, and to provide supports for their families. When The Royal Canadian Legion was established in 1926, these women were a welcomed addition at Legion Branches as they continued the tradition of volunteering to support needy ex-service personnel, and to enrich the programs and activities of the Branch.
Members of the Ladies' Auxiliary support the aims and objects of The Royal Canadian Legion and today, they are a vital and integral part of the work of the Legion. Major contributors to the day-to-day life of Legion Branches, Ladies' Auxiliaries provide financial and volunteer support to Legion programs.
HISTORY OF THE GRANDE PRAIRIE LEGION'S LADIES AUXILIARY
A group of Legionnaires were sitting around the "Old Hut" reminiscing and planning for the future, when someone had the idea that Branch #54 should have a Ladies' Auxiliary. In 1950, Branch #54 Ladies Auxiliary came to be, with Gertie Alloway as the first President. Gertie had done an exceptional job getting the Auxiliary off the ground and making it what it is today.
The Ladies' Auxiliaries are coordinated at the Branch level. Any woman who is eligible for membership in the Legion may choose to become a member of the Ladies Auxiliary only, or a member of both organizations. For more information on Ladies' Auxiliaries in your area, please contact:
Aleta Vandemark
Phone: (780) 532-6663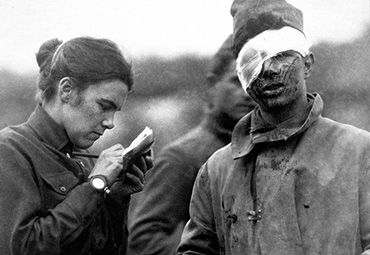 President – Marlene Reddekopp
1st Vice President – Shirley Haugli
Past President – Frieda Wood
Secretary – Aleta Vandemark
Membership – Pat Garrison
Treasurer – Aleta Vandemark
Sgt. At Arms – Ellie Wood
Chaplain – Fran Boudreault
COMMITTEE HEADS
Fran Boudreault
Shirley Haugli
Judy Gordon
Mary Head